I have been working on a post about natural remedies for inflammation and I am not done with it yet. In the meantime I have been walking on clouds and wanted to share the things I appreciate.
1. The power of music! I saw this on
Steph's blog
yesterday and it was really quite fitting! I found an AWESOME electric station on XM radio and have been dancing on my way to work the last couple days. It is so refreshing because I am SUCH a car dancer but lately haven't found anything I really want to dance to and they play some bomb diggity ish in the morning!
2. The power of happiness! When I am happy
everything
seems to go my way. I really like it when I follow my own advice on
How to Keep a Positive Attitude
. I think everyone should do it and if you want to check out what I wrote I included a link for your convenience. You're welcome :)
3. An email about someone interested in my car. I mentioned I bought a new car - while maybe
plugging my condo for sale
- and I received an email notification that someone is interested! Yay! I get to call in 3 minutes!
4. My new position ROCKS!! I am so so SO happy to have moved to this position. I absolutely LOVE the change. Everyone reminds me it is temporary and I know the excitement will eventually ware off but I cannot begin to express the gratitude of leaving behind some of the
crappy
not so fun stuff in my former position.
5. My new mirror. My grandma got me the mirror I wanted for my bday and it is gorg. It may or may not be a little bit too big for our bedroom but I don't care!
Share your thoughts on what you appreciate today!
Linking up with: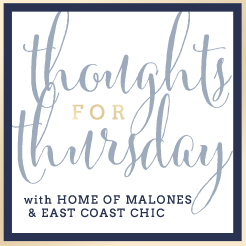 Follow me for great health info and maybe a little nonsense rant here and there and be sure to subscribe to page by entering your email which will give you up to date info.